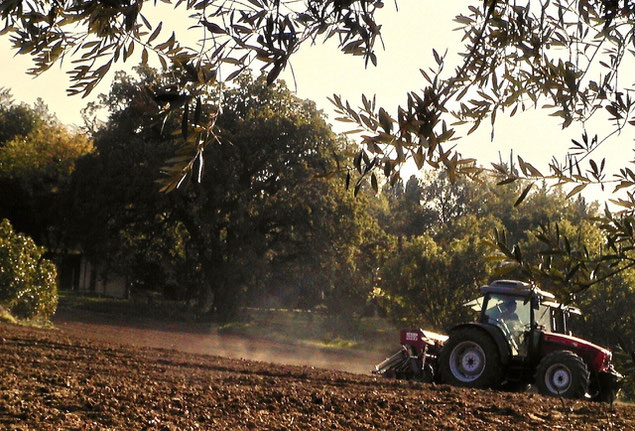 Working as agriturismo means being an agricultural farm before than a holiday accommodation. We take care of about 20 hectares of arable land, where growing crop rotation of wheat, barley, canola and sunflower, season after season, and six hundred trees of olive grove ...
This is a job going with the year cycle; tourist season starts in March, when crop seeds have already sprouted, waiting for Spring sunlight to stimulate leaves and ears growing. It keeps going through Summer, across crop harvesting, followed by new plowing in preparation to next cycle. Finally, it ends up in the end of October, right in time for crop sowing and olive picking. 
Olives are among the longest fruits to ripen; trees start producing mignole (cluster inflorescences) around April, to bloom in May with thousands of small, little, white flowers with yellow antennas and no scent. Only few of those will turn into fruit setting in June, due wind pollination. From now on, tiny olives keep growing and ripening, across Summer to October. In a rainy fall, picking may last until Christmas, while January is the resting time either of tourism and vegetation. In mid February cold is still harsh, at the beginning of pruning which last a couple of months into Spring, when trees start producing mignole in April, again.
Olive trees are evergreen, ancient and long-lived plants which loves mild winters, dry summers and doesn't enjoys frosty nights. Temperatures of minus eight celsius can be suffered only for few hours. As a result, it can be cultivated in the olive oil strip only, between 30th and 45th parallels north or south, on clay soils and stony grounds, rich in calcium. Trunks are very twisted and irregular with tendency to crack up, shaping cavities. Leaves colour is between grey, green and silver as Athena bright eyes, glaukopis, goddess of wisdom and knowledge, whom donated the first olive tree to the Greeks.
Greeks were so impressed and grateful of the wonder gift, deciding to dedicate their most important city to the godess; Athens. Around this first tree, was grown a  little grove one side and in the other side, the entire sacred and monumental complex of the Acropolis. Olive trees sacrality was also highlighted with the first law of olive trees cultivation, incentive and protection, preventing trees cutting, with rare exceptions of a maximum of two plants per year, on penalty of death.
From a symbolic point of view, olive trees became a sign of peace and civilisation, silent guardians against invasive evil wherever they were planted. Wreaths of twisted olive twigs were used to pay homage to esteemed sages and wise citizens, as ambassadors had the custom to declare their peaceful duty showing a small olive branch. Also, we find the same symbolic meaning associated to olive trees in the Bible, when a dove brings a twig to Noah after the flood waters began to recede and the same Jesus Christ was probably looking for spiritual Peace when he chose the Garden of Gethsemani (oil press), at the foot of the Mount of Olives, for his Last Supper.
Nowadays we seem to have lost most of these beliefs, since many olive groves are abandoned in our territory, but this makes us feel our job even more special, although sometimes we are very tired in the end of a working day.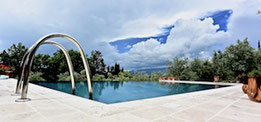 Right in the heart of Italy, Villa-Casafredda looks out to crop fields, vines and olive groves. Sitting on top of Ceciliano's hill promises you, blue sky, stunning sunsets and total privacy, but in the other side ... READ MORE