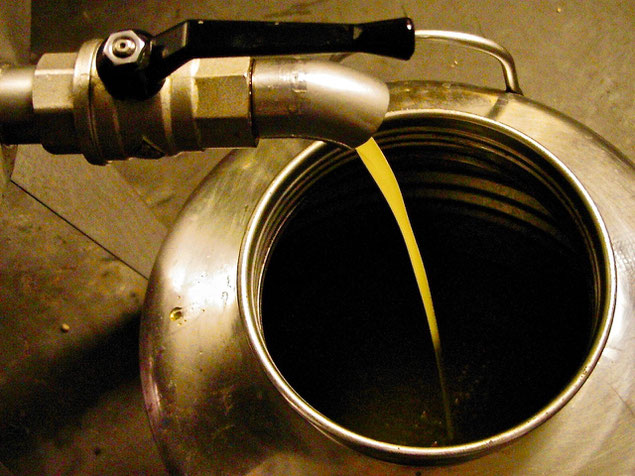 Olive oil is a superb juice with a colour between gold and emerald green, intense bouquet and a balanced taste of bitter and spicy, clearly defined when young and freshly pressed ...
Cornerstone of mediterranean diet, gives its best as raw condiment and preservative of food in jars. Valid for light fry and for domestic deep fry also, because rich in monounsaturated fatty which make it stable to high temperatures, with the best smoking point of any domestic seed oil. Olive oil organoleptic is very similar to human fatty acid composition, coming out highly digestible, hypoallergenic and recommended in weaning, because similar to breast milk too. Moreover and thanks to its antioxidant proprieties, cleans the cardiovascular system by acting on cholesterol. Promotes calcium fixation, facilitating long bones growth and combating osteoporosis. Finally, helps neural connections in children and fights cognitive capacity degeneration in elderly.   
From science research, olive oil results to be an extraordinary food medicine, nutraceutical, which realise its benefit on human health mainly through ingestion. In the past though, aside being used such as food, was also essential for body hygiene and cosmetics on top of being used in wrestling to make slippery the opponent grasp. Winners of the games in honour of Athena were awarded in cash, medals (gold or silver) and jars of pure olive oil, particularly appreciate because of the common practice of body oiling and massage. Applied to clean wounds, helping them healing, with a calming and soothing skill on redness and irritation. Turned into soap for personal care and linen washing or into emollient ointment for skin, nails and hair, with ageing retard effects. Pliny the Elder said: two are the fluids most pleasing to human body: wine inside, outside oil. 
An other, almost magical use was to pour it in the sea when in a storm, because of the capability to dissipate waves energy around the ship; but its most important value was perhaps to be a source of light, used like fuel for oil lamps. Not by chance Thucydides, in the V century bC, said: Mediterranean populations were arose from barbarism, when they started cultivating grapes and olives. 
Not least olive oil was considered Sacred and able to Consecrate. After all was connected to civilisation, good health, great skin, capability to pacifying storms and literally brightening up the dark of the night; a gift from the gods! Opposite to water and closer to fire, olive oil can transmit its own abilities by anointing; like anything is soaked in olive oil results to be high flammable and repellent to water, anyone is consecrated arises blessed, protected, elected. For all these reasons it was high value both commercially and symbolically.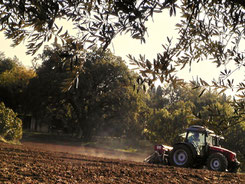 Being an agriturismo means to work as an agricultural farm before than accommodation. We take care of about 20 hectares of arable land, growing wheat, barley, canola and sunflower in rotation, and six hundred trees of olive grove ...  READ MORE