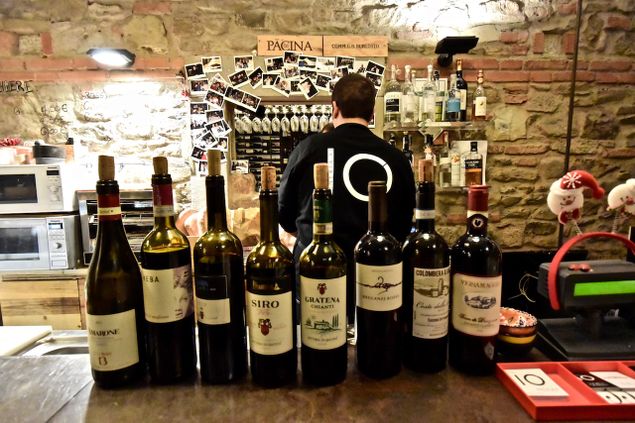 In 2010 Federico and Francesco decided to use their knowledge, developed in a decade of experience in the field of food and wine, in Vineria-al-10. A little enoteca, bistrot and wine bar, designed to put yourself comfortable for a drink or a main course ...
Located in Piazza San Giusto, a pleasant square with horse-chestnuts trees framing Porta Trento e Trieste from inside the city walls, a part of town which keeps original features and character. Vineria is open from 6pm to late and is the right place where stop by during your Arezzo visit for an aperitif, a light supper or a glass after dinner; with Wednesday special tasting night or live Jazz jamming session.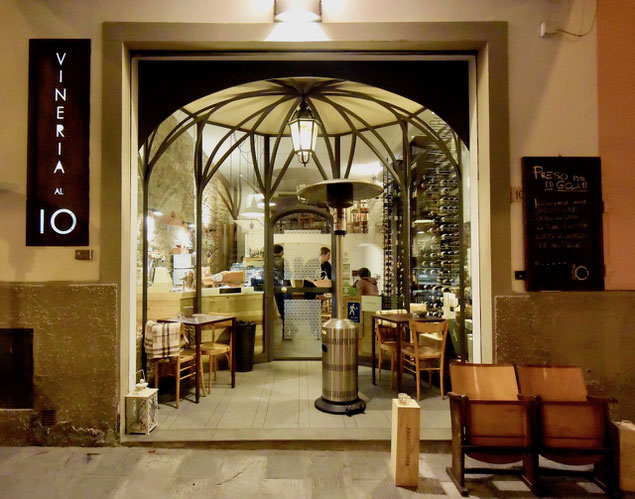 Vineria is a smart architectural recovery of an old jewellery shop to new life, which keeps from previous destination the lovely concave glass entry door only. Vineria is a tiny, cozy and fully organised space, where wine bottles displaying is the central idea of the furnish plan, by Luca Maria Cecchi design. Once inside, you will be cuddled and guided through the 250 labels list between wines, beers and spirits as the cheeses and cured meats range by Mauro, a young Sicilian guy whom lately joined the brigade after sharpening his foreign languages skills with abroad experiences. Finally, whatever your choice will be, you can be sure that any product they propose is directly purchased from producers, with not intermediate passages. This is their strength, as the insurance of the quality and healthiness of the proposed products comes from knowing personally farms and farmers.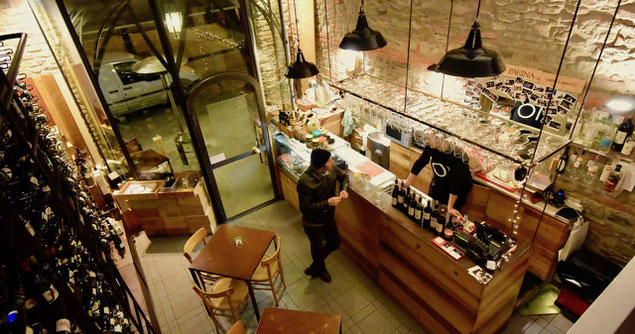 After three decades in which Italians left behind their agricultural background, in facts, during the '90s we suddenly realised to have a precious heritage which was getting unlearn; the antique know-how of producing wine, cheese and cured meat was going lost with the passing away of the elderlies. In response to this scenery, it became in common use spending weekends in food and wine tours around Italy, especially to regions like Tuscany, Piedmont, Sardinia, Emilia Romagna first and then expanding to others. Revitalising small villages and surrounding territory; stopping by winery and dairy to purchase directly from producers, with an interesting fair trade side effect; re-discovering traditions, taste and flavours, which were risking to get lost, while instead happened to become Italian major asset in the food and wine tourism industry.
This was also Federico and Francesco passion at the time, but they have being able to step forward transforming it into business, making the difference for themselves and for the artisanal producers discovered in the years. In 2001, in fact, they founded Donà dei Monti, selector and distributor of wine and food to restaurants and the hospitality sector. Starting with Italian products and expanding to Europe, in particular Germany and France. Their philosophy is summed up in these words; some of our products may be biological or biodynamic but all of them have expert producers, sensitive to seasonal variation of the raw material (grapes, milk, wheat, etc.) and able to adjust them ensuring high quality to final product, year after year.
Lately they have opened a new store, not for tasting, but easy to reach and park for loading, just in front of Eden car park. In there, each wall becomes a canvas of samples and price list, at the same time handy to use and successful design.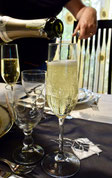 Whatever is your opinion about wine, you can not miss to have a glass during your Tuscany experience, even better if combined with matching food. Here three options to enjoy wine during your Tuscany experience, according to your taste, interests and enology knowledge READ MORE