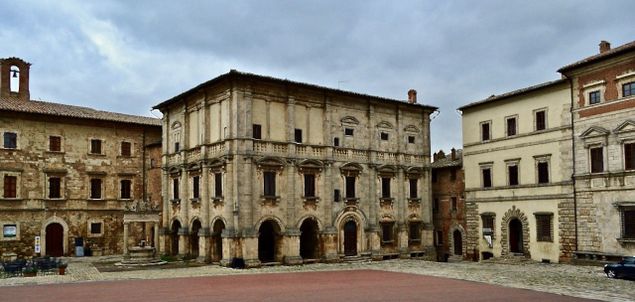 During its long history Montepulciano had the maximum develop around the fourteen century when its connection with winemaking was so deep to influence either village structure and buildings architecture ...
Montepulciano's historical connection to wine production is on records since the ninth century, the same village structure rises from impressive basements aimed to accomodate wine cellars still perfectly functioning in order to keep stable temperature and humidity. Some of them are open to public for free visits and tastings on request. Tastings are generally for free or have a cost around two euros per person, usually discounted if you buy any bottle. A complete tasting experience with larger selection of wines and food matching can be booked in advance.
In 1350 Montepulciano is provided with a first wine law, which governed production and marketing, but the real turning point was later in the XVIII century when, from a clone of Sangiovese Grosso, was selected the new variety Prugnolo Gentile with its classic elegant body. Rosso and Nobile di Montepulciano blends are constituted for a 70% of Sangiovese Prugnolo Gentile, a 20% of Canaiolo Nero or Malvasia and a 10% of other varieties recommended and authorised for Siena province; you are going to obtain Rosso di Montepulciano DOC, if aged for six months, or Nobile di Montepulciano DOCG if aged for at least two years with six months in bottle, or Riserva if aged for at least three years. Not to be confused with an other red wine, Montepulciano d'Abruzzo, where Montepulciano refers to the vine and Abruzzo is the region of production.
The most spectacular cellar open to public is certainly Cantina de' Ricci, with its impressive 14.4m tall cellar dug into the tufa. A physical and historical link between Palazzo de' Ricci and its lower heart, an evocative Etruscan preexistent circular room with central well, dating from the fourth century BC. 
If you are looking for a full winemaking experience, instead, we recommend Triacca Santa Venere estate. Just out of the city wall, offers guided visits to its vineyard and advanced Hi-Tech cellar before tasting, at the cost of four euros per person. Booking make you sure to find an english speaker guide on arrival.
If you don't feel for tasting and driving, it's possible to arrange a daily bus service with private driver from Casafredda and return, for groups up to eight passengers.
Cheese Tasting? Pecorino di Pienza