Pienza is a classic medieval village with a renaissance heart and a real passion for Pecorino cheese ...
Made of close buildings and narrow streets, it was upgraded to contemporary fashion architecture in 1462 by its most illustrious citizen, Enea Silvio Piccolomini, after he became Pope Pio II. The renovation at the hands of Bernardo Rossellino, with the intent to realise the ideal city, lasted four years and the result is a balanced and harmonious composition which made of Pienza a gem in its kind. Nowadays is a popular touristic destination, but it also populate by stable residents which still keep flowers on the balcony and hang the washings out the window. 
Pienza shopping also answer to the double request of residents and tourists with stores going from traditional butcher to groceries, toys, fashion, restaurants and more. The most characteristic product of Pienza is Pecorino, an hard cheese aged in oak barrels for a minimum of 90 days and made with sheep's milk, rennet, salt and ferments. Several gourmet shops, belonging to producers, offer Pecorino tasting of different aging and flavoring like walnut leaves, black pepper, chilli, truffle, grape skins, "grotta" or ash aged. So you may find yourself walking  through Pienza streets, tasting Pecorino cheese and enjoying beautiful chiaroscuro given by the match between sunset and architecture.
In case you wish to visit a cheese factory instead we recommend Caseificio Cugusi located at 15 minutes drive from Pienza on Montepulciano's way. It offers guided visits to their production system before moving to tasting room or, if the sun is shining and you are in a picnic mood, it is possible enjoy the tasting in a dedicated area. On the same grass, reach in ascenzio, barbabecco and horehound, which feed the free-range flocks and make their milk unique.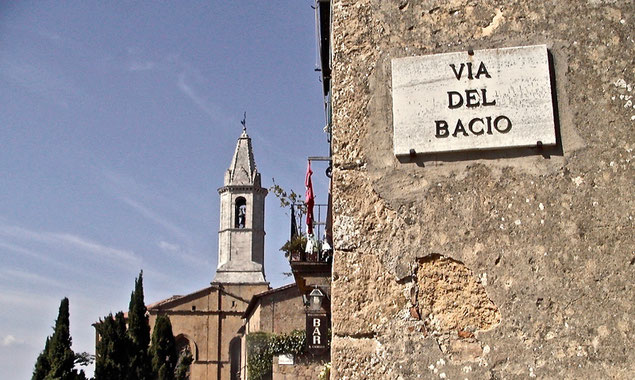 Wine Tasting? Nobile di Montepulciano!