Provisional Dates: May 2022
All skill levels welcome
Limited availability!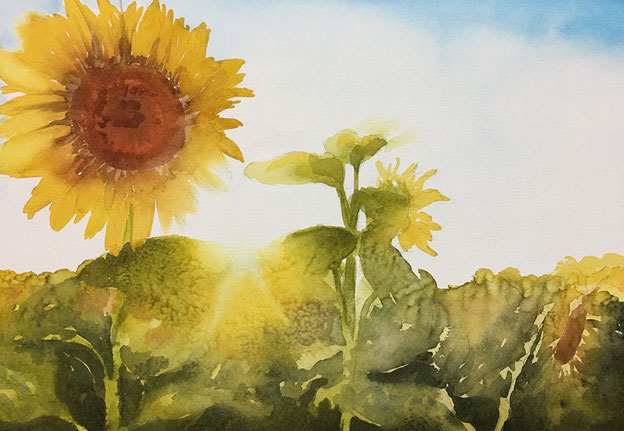 Guests will have ample opportunities to paint the beautiful Tuscan landscape in watercolor. This plein air tour is located in central Italy, in the heart of Tuscany, providing guests with stunning springtime views of the Italian landscape. Painting session will include on site painting at the villa, as well as nearby excursions that provide an immersive experience with Renaissance era architecture and history. The painting session will be facilitated by Jill Williams, an American watercolorist  based near Atlanta with over 20 years as a professional fine artist and workshop instructor. Landscape painting in watercolor is her specialty, and her experience and teaching style have helped numerous students achieve wonderful results with this medium. Guests can expect to observe helpful demonstration and receive individualized instruction to achieve lush landscapes with visual impact. A supply list is available, and fully stocked supply kits are available for an extra fee for guests who do not wish to travel with supplies. Please, also note: a certain level of physical activity is involved in the daily outdoor sessions & excursions.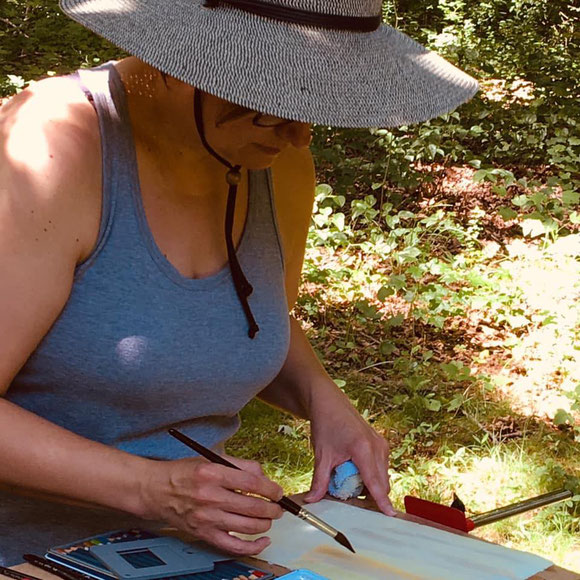 Plein Air painting the beautiful Tuscan landscape
Plein Air session in Cortona and tour of the city
8 nights accommodations in a heritage Italian farmhouse
Professional fine artist leading the workshop
Friendly hosts: arrive as a guest, leave as a friend
Guided private tours of Arezzo, Sansepolcro & Monterchi, and Montepulciano & Pienza.
Authentic fine dining in select area restaurant
Cooking class at your private villa to produce a four courses Tuscan banquet, including home made pasta  
Upon arrival at Casafredda you'll be warmly welcomed by your hosts Michela & Sergio, who will make sure all your needs are attended to. You will have time to settle in to your room which has been carefully appointed to ensure your comfort and a sense of home. Tuscan aperitif will be served in front of the stone fireplace, providing the perfect opportunity for a casual 'meet and greet' with your instructor, Jill Williams, as well as your fellow artists. As an old Tuscan proverb says, "Don't begin your travels without good wine on your lips!" to welcome our guests, we'll serve local organic wines along with our specially prepared three course gourmet dinner, in an inviting, relaxed atmosphere for discussing the days ahead.
Following our rich and sumptuous breakfast we'll begin our first painting session at CasaFredda. Boasting exquisite vistas all around, guests will settle on views of choice, observe demos and receive any necessary instruction from Jill to capture favorite spots around the farm. The session will run till 2:30 pm with a lunch break around noon.
The remainder of the afternoon will be dedicated to Arezzo and exploring the historically rich architecture and frescos of this Renaissance hill town.
Guests are highly encouraged to take their sketchbooks and cameras to chronicle the sights and capture reference material for our next painting session!
Arezzo itinerary 
San Domenico (the XII century church home of Cimabue's crucifix, painted around 1261)
Museo Casa Vasari, once the home of artist, architect and writer Giorgio Vasari, who is regarded as the father of art history and the first to use the term Renaissance (rinascita)

.  

Vasari lived along side, and chronicled the many lives of now famous Renaissance artists in his book The Lives of the most Excellent Painters, Sculptors and Architects
The Arezzo Cathedral (home to Renaissance era masterpieces including: Della Robbia's ceramics, Piero della Francesca's frescoes, and Guillaume de Marcillat's decorated windows)
Piazza Grande: with an easy stroll through the very same streets where Roberto Benigni's oscar winning movie was filmed, we'll reach the core of the historical quarter.
Logge Vasari: in the beautiful setting of the gallery designed by architect Giorgio Vasari himself, you will have dinner at one of the finest city's

restaurant

.
Our inspiring excursion into Arezzo will have provided a host of resource materials. Guests can set up for plein air in any of the designated areas at Casafredda, or develop their Arezzo sketches or photos into paintings, or any combination of the two. Jill will help guide you with any necessary demos and instruction. The session will begin after breakfast and last until 3pm, with a break for lunch around noon.
There will be then time to relax by the infinity swimming pool before dinner will be served.  
Following breakfast, guests will be escorted by our private driver to the eastern valley of Tuscany for an exciting opportunity to explore the "Cradle of Renaissance" firsthand. Both Piero della Francesca and Michelangelo were born in this area and upon seeing the valley, it becomes apparent how the breathtaking landscape was such a powerful influence for their art.
Guests are highly encouraged to take their sketchbooks and cameras to chronicle the sights and capture reference material!
Sansepolcro & Monterchi Itinerary:
After breakfast we'll be picked up by our private driver and go discovering the eastern valley of Tuscany, literally the cradle of Renaissance. Both Piero della Francesca and Michelangelo have in fact born in this area and surely you'll recognize how decisively these beautiful landscapes did influence their art.
Sansepolcro: birthplace of Piero della Francesca and home to the Civic Museum displaying many quintessential works of Renaissance masters, including: Andrea della Robbia, Pontormo's Saint Quentin, Piero's Resurrection, Saint Julian and Madonna della Misericordia, and more
Bourbon del Monte Palace: this original structure is now the home of The Aboca Museum, offering a full sensory tour celebrating the therapeutic power of herbs throughout the centuries.
Today's lunch will be offered

at

Ristorante Fiorentino a restaurant in the heart of Sansepolcro, a premise with nearly two hundred years of trading history, and an exquisite example of Tuscan cuisine.
Monterchi: on the way back to Casafredda, we'll stop to visit the iconic and mysterious Madonna del

Parto

fresco by Piero della Francesca.
Back at Casafredda there will be time to relax and sip a glass of wine under the sycamore tree and enjoy watching the sun set over the Chianti hills before dinner. 
Seeing the eastern valley first hand will again provide a source of inspiration for painting today. Working from resource material and/or painting plein air will begin after breakfast and run till 3pm, with a break for lunch around noon.
Dinner will be served, as usual, from 7 pm onward
Day six - Montepulciano & Pienza
After breakfast you'll be chauffeured to the hill town of Montepulciano, located in the southern district of Siena. Known for it's wonderfully preserved architecture, Montepulciano is nowadays the production center of the award winning Vino Nobile wine, and rated by some wine magazine as the world's top wine destination in 2018. Wine making traditions have their roots in antiquity here with the Etruscans, and this proud tradition carries on today. Guests are highly encouraged to take their sketchbooks and cameras to chronicle the sight and capture reference material!
Montepulciano & Pienza Itinerary:
Museo Civico: we'll visit the small Civic Museum of Montepulciano, home of archeological treasures, Della Robbia's ceramics and a beautiful collection of paintings.
Wine Tasting at Cantina de' Ricci: guests will be accompanied in the city's underground, where local winemakers still age oak casks of wines within the carved limestone tunnels below the old city. Select Rosso & Nobile di Montepulciano wines will be offered before going for a stroll through the vibrant and colorful streets of the walled city.
Explore: lunch will be own your own while exploring the city. Enjoy visiting more of the historical cellars of Montepulciano, sketching scenes of the iconic narrow streets and small city life, shopping, or simply relaxing at one of the many cafes. You will then meet your private driver to reach your next destination.
Pienza: the public terrace overlooking the entire Val D'Orcia is a must see at sundown. The spectacular display of light pouring over the Tuscan hills is truly magical and worthy of a king. 

Pope Piccolomini's summer palace, built in 1492 in this spectacular spot, offers an incredible example or renaissance architecture: the meticulously manicured garden and the three floors lodged facade of this marvelous building are simply breathtaking. 

This little town is a very easy walk, and a kaleidoscope of Tuscan lifestyle: locals are still drying their clothes on windows dry lines, while flavored cheeses, the typical local product, are displayed and sold in the many tiny shops: have a stroll in Via del Bacio (Kiss St.), Via Dell'Amore (Love St.) or Via della Fortuna (Luck St.), you'll not regret it!
After some free time you will meet with your driver and return for a buffet dinner to Casafredda, which you could enjoy sitting at the common dining table, or in one of the many living areas, all covered by WiFi. 

Day seven - Painting in Cortona.
Our last plein air session will be held in gorgeous Cortona in eastern Tuscany. This area is a painter's paradise, and Jill will be available for instruction throughout the session. Fortezza del Girifalco, the ancient fortress in the upper part of the city, offers an astonishing and inspiring view of the entire valley. From our vantage above the city's terracotta roofs, the southern facing panorama extends from Lake Trasimeno to Mt. Amiata. While facing north, the skyline of Montepulciano is visible along with the Chianti hills and the province of Arezzo. This beautiful hill town has grown in popularity among discerning travelers, and upon seeing it yourself, you'll know why. Painters aren't the only artists to be impacted by Cortona. Inspired by her love for the area, American author Frances Mayes wrote her bestseller, Under the Tuscan Sun.
We will break for a light lunch at the fortress cafe, and after our session, we will go for a stroll through the characteristic narrow and sloping streets toward Piazza Signorelli, the vibrant core of Cortona.
After arriving at Casafredda, guests will have dinner and time to relax in front of the fireplace after an energetic day.
It has been an eventful and immersive week! Guests are invited today to fully take ease and experience Casafredda, and its roots in Tuscan simplicity. Having time to relax can whet the appetite, and Michela and Sergio plan to spoil you with a genuine, rustic banquet. Guests who would like to try their hand at authentic Tuscan cooking are welcome to participate in the meal preparation. Feel free to put aside your brushes and watercolors, to create and enjoy one of the rural traditions of the region: the making of fresh pasta! The conviviality of cooking will be matched with the stories of the week, leaving you with unforgettable memories of this remote corner of Italy.
The culmination of this meal, and sharing it with our guests is all about one more Tuscan proverb: " A Tavola Non si Invecchia" (while dining, time stops!)
As usual breakfast will be served from 7.30 am onward.
We will then process your check out and take time to warmly say "buon viaggio" and "arrivederci" to next year. At Casafredda it's a great privilege to help provide our guests with memorable and lasting experiences of this beautiful region.
Participating guests, double occupancy - Eur 2980
Participating guests, single occupancy - Eur 3280
Non participating guests, double occupancy - Eur 2400
Please note: we do only accept double occupancy for guests traveling together. We will not accommodate you with anybody else. 
- transport to/from Arezzo train station on arrival & departure dates
- 8 nights accommodation in heritage Tuscan villa
- 8 breakfasts and all the meals as outlined in the program
- free WiFi
- soft drinks & selected wines with all outlined meals
- private driver for day tours in A/C van
- all guided excursions and entry fees as outlined
- max. 12 guests workshop
- access to portable stools for plein air sessions
- cooking class
- VAT/GST and local taxes
- air fare
- airport transfer (available at extra costs)
- travel insurance
- any purchase of personal nature
- food & beverage ordered by traveller outside of the tour itinerary and workshop program, as well as taxes on personal purchases.
- tipping is not required and it's at your discretion
- art supplies (available, on demand at the time of booking, for an additional fee of Eur 150)
To check availability, and for any information on our workshops & retreats, please fill out the form below, and forward us your message; we will promptly reply with all the required info. You can also contact us directly on the email address: info@villa-casafredda.com
Upon receipt of written confirmation of availability, you will be asked for a payment of 30% deposit in order to secure your booking. The reservation will be secured and formalized only after deposit payment.

Balance must be paid at least 60 days before arrival day. For reservations placed less than 60 days prior the start of the workshop/retreat we do require full payment of the entire fee, and in any case before arrival day.

For booking cancellation prior to 120 days from the start of workshop/retreat, we will retain the 30% deposit and make an immediate effort to find a replacement tenant, so that we can refund the deposit in full or in part.
For cancellation in between 120 to 60 days prior arrival, the 30% security deposit will be fully retained.
For cancellation within 60 days or less from your arrival, the cancellation fee will be 80% of the whole amount.
Days will be calculated from receipt of written notice of the cancellation
Please note: if for any reason you will have to cancel your booking, we will endeavor at our best to find a replacement for your place in the workshop/retreat; when so, we will refund the total amount, less an administrative fee of Eur 200. If the replacement will be sold at a last minute reduced rate, we will retain the difference from you, plus the administrative fee of Eur 200.
In the unlikely event we will not reach the minimum number of participants, we reserve the right to cancel a workshop/retreat up to 30 days prior start of the event. In this case we will promptly refund you the entire fee. Please note: we deny responsibility for any other expenses deriving from the cancellation, including cancellations of flights and/or other forms of transport.
Participants are highly recommended to get adequate traveling/medical insurance