The exploration of Mars fascinates me, but a fire warming the oven makes me fall in love!
A journey at the discovery of genuine Eastern Tuscany cuisine, following the tracks of renaissance's masters while sipping top regional wines, learning how to prepare traditional dishes and enjoying unforgettable meals.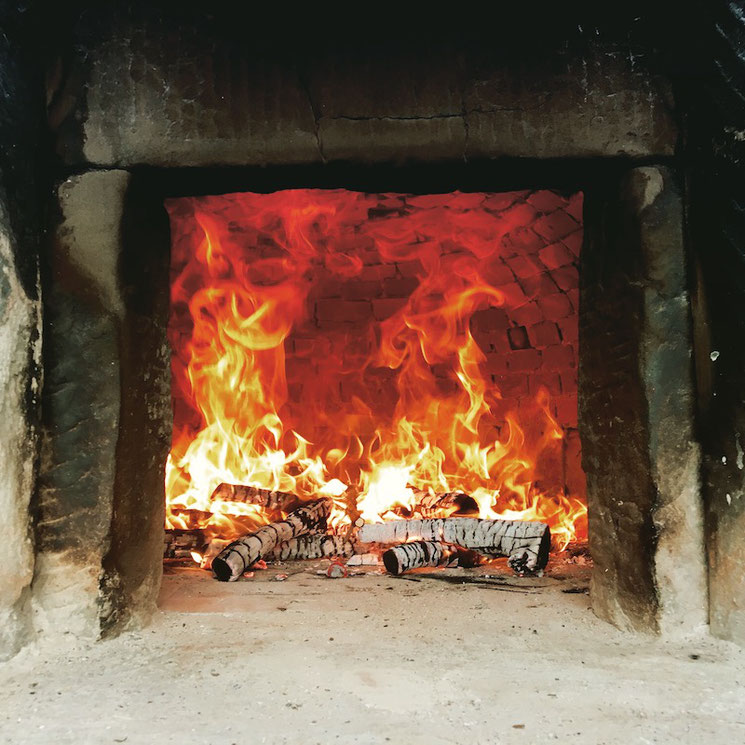 - Stay in Tuscany, with Tuscans, as a Tuscan!
- 6 nights accommodation in heritage farmhouse
- Friendly hosts: arrive as a guests, leave as a friend
- Farmers market tour
- Visit Arezzo, Monterchi, Sansepolcro, Anghiari & Casentino 
- Max 12 participants
- 3 x hands on cooking classes 
- 1 x Casafredda's wine experience: far behind standard tasting
- Authentic fine dining in select area restaurants
- Visit an ancient stone mill and a biodynamic winery 
Day 1 - slow down, you're here!
Upon arrival at Casafredda you'll be warmly welcomed by your hosts Michela & Sergio, who will make sure all your needs are attended to. You will have time to settle in to your room which has been carefully appointed to ensure your comfort and a sense of home. A Tuscan aperitif will be served in front of the stone fireplace, providing the perfect opportunity for a casual meet and greet with your hosts as well as your fellow cooks. We'll then spoil you with local organic wines served along with our specially prepared three course welcome dinner, in an inviting, relaxed and friendly atmosphere for discussing the days ahead.
Day 2 - Farmers market tour & cooking class
It's Saturday, and in Arezzo the weekly farmers market will be your first dip into the genuine and flavorful Tuscan traditions: following our rich and sumptuous breakfast you'll be chauffeured to Arezzo and, together with your hosts, start browsing for the freshest and tastiest ingredients for the kitchen.
Being Arezzo's the largest street market of Eastern Tuscany, sellers are coming from all over the region, setting their colorful stalls with any sort of delicacies: Michela & Sergio will accompany you selecting the freshest produce, cheeses, truffles & mushrooms, cured meats, spices, and anything else tempting your palate! 
We will then return to Casafredda for our first hands on cooking experience: the preparation of a genuinely Italian three course meal will keep us busy while comparing traditional with modern presentations.
The class will last for approximately 4 hours, and there will be time to take pictures of all dishes in progress, as personal notes of the recipes on your provided Ricette di Casafredda booklet.  
Before sitting for your own prepared 3 course dinner we'll make a toast to the day watching the sun setting in the distance over the Chianti hills.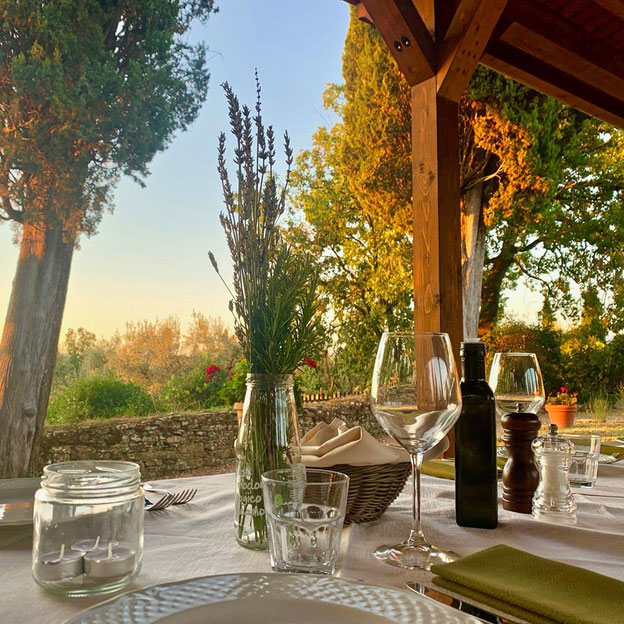 Day 3 - Tour of Monterchi, Sansepolcro and Anghiari
After breakfast you'll be picked up by your private driver and go discovering the eastern valley of Tuscany, literally the cradle of Renaissance. Both Piero della Francesca and Michelangelo have in fact born in this area and surely you'll recognize how decisively these beautiful landscapes did influence their art.
On the way to Sansepolcro we'll stop in Monterchi, home of iconic Piero's Madonna del Parto: the subject and the original location of the painting (a small chapel out of the village once dedicated to fertility's goddess) make of this fresco a masterpiece shrouded in mystery.
Sansepolcro, home town of Piero della Francesca, is only few km ahead and will be our second destination of the day: the Civic Museum displays, just to name a few, Andrea della Robbia, Pontormo's Saint Quentin, Piero's Resurrection, Saint Julian and Madonna della Misericordia. Far from the madding crowd of busier cities we'll have, in this tiny but incredibly rich museum, the opportunity to admire the true spirit of Renaissance.
Today's lunch will be offered at a restaurant, in the hearth of the city, with almost two hundred years of trading history: Fiorentino, certainly one of the best interpreter of the regional cuisine.
We will then move to Bourbon del Monte Palace, heritage building of Sansepolcro now home of The Aboca Museum, for a full sensory tour celebrating the therapeutic power of herbs throughout the centuries. 
On the way back to Casafredda, and only few km apart from Sansepolcro, you will stop for a stroll through the narrow alleys of Anghiari, where we will visit the beautiful Busatti's laboratory and show room: weavers in Tuscany since 1842, the Busatti family is still producing the highest and finest artisanal fabrics for home decor: while in the basement of the historical building the ancient machineries are still used for the production, the ground floor large showroom is an inspiring paradise for all those passionate in rural, yet extremely elegant textiles. 
After a long day it's now time to go back to your villa in Tuscany, where Michela and Sergio will spoil you with their unique wine experience: far behind the concept of simple wine tasting, you'll go through the matching of a mouthwatering selection of delicacies carefully presented and combined with 4 exclusive Tuscan wines, all from organic productions.
The decantation, the use of adequate glasses and the priming of the inner part of the glass with the wine, will enhance the extraordinary quality of the selected wines and allow you to fully appreciate the organoleptic characteristics, while the crackling fire will brighten the evening and conversation.
Day 4 - Tour of Arezzo & cooking class
after breakfast, the first part of the day will be dedicated to Arezzo and exploring, accompanied by our private guide, the historically rich architecture and monuments of our marvelous Renaissance hill town.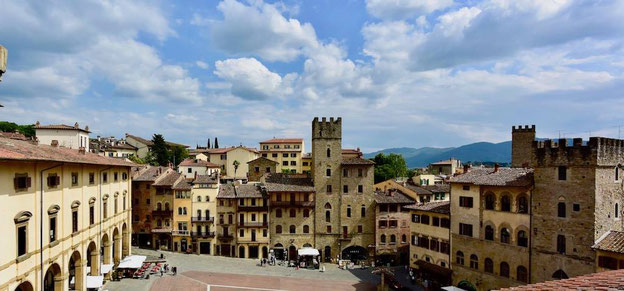 Arezzo itinerary 
San Domenico

 (the XII century church home of Cimabue's crucifix, painted around 1261)

Museo Casa Vasari

, once the home of artist, architect and writer Giorgio Vasari, who is regarded as the father of art history and the first to use the term Renaissance (

rinascita

)

.  

Vasari lived along side, and chronicled the many lives of now famous Renaissance artists in his book 

The Lives of the most Excellent Painters, Sculptors and Architects

The Arezzo Cathedral

 (home to Renaissance era masterpieces including: Della Robbia's ceramics, Piero della Francesca's frescoes, and Guillaume de Marcillat's decorated windows)

Piazza Grande

: with an easy stroll through the very same streets where Roberto Benigni's oscar winning movie was filmed, we'll reach the core of the historical quarter.

Logge Vasari

: today's lunch will be offered at one of the finest

city

 

restaurant in the beautiful setting of the gallery designed by architect Giorgio Vasari himself. 
Once returned at Casafredda you will put your apron on and start your second cooking class, entirely dedicated today to legumes, cereals, salads, and the use of aromatic herbs in the Tuscan cuisine; the class will be followed by our usual dinner served at the nicely decorated long table.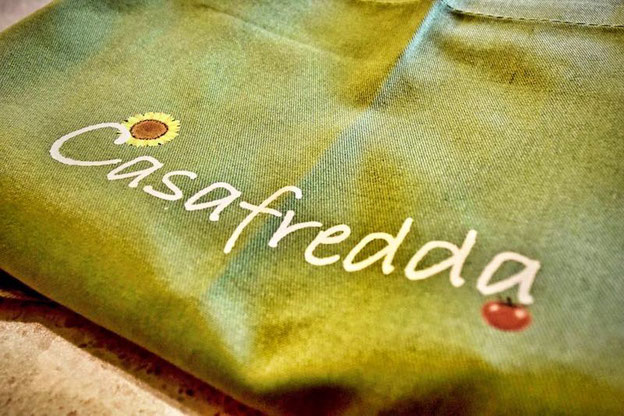 Day 5 - Casentino valley & biodynamic winery tour
After breakfast, today will be entirely dedicated to the discovery of one of the most secluded valleys of Tuscany,  Casentino. Firstly we will visit Molino Grifoni, an ancient stone mill still powered by the crystal-clear creek's waters, where top quality flours are produced only using local grains.
The owner, member of the same family who has been operating the mill since the XVII century, will introduce us to the secrets of milling. As the core of tomorrow's final cooking class will be the making of fresh peculiar pastas, we will purchase here today our batch of freshly milled flour.
After visiting the mill we will move to Poppi and tour the castle of the Guidi family, once  landlords of the entire valley: fans of ancient legends and mysteries will find the story of Countess Matelda (and her ghost) extremely interesting. More realistic, however, is the story of the battle of Campaldino, in which the poet Dante Alighieri took part, and which was fought between Florentines and Sienese in the plain below the castle. A bronze monument is dedicated to Dante on the main terrace of the building, from which you can enjoy a 360° view of the whole Casentino.
Today's lunch will be at the Antica Cantina, an excellent restaurant housed in the cellars of an 11th century building: Silvana and Piero, managers of this temple of good taste, will spoil us with traditional dishes accompanied by some of the best wines of the regional scene.
After lunch we will be visiting biodynamic winery Ornina, where friend and winemaker Marco, together with his lovely wife Greta, will welcome you in the recently renovated cellar. Their interpretation of the very peculiar terroir, and attentive winemaking methods are giving stunning results, both with local varieties as the Sangiovese, and the recently introduced Pinot Noir.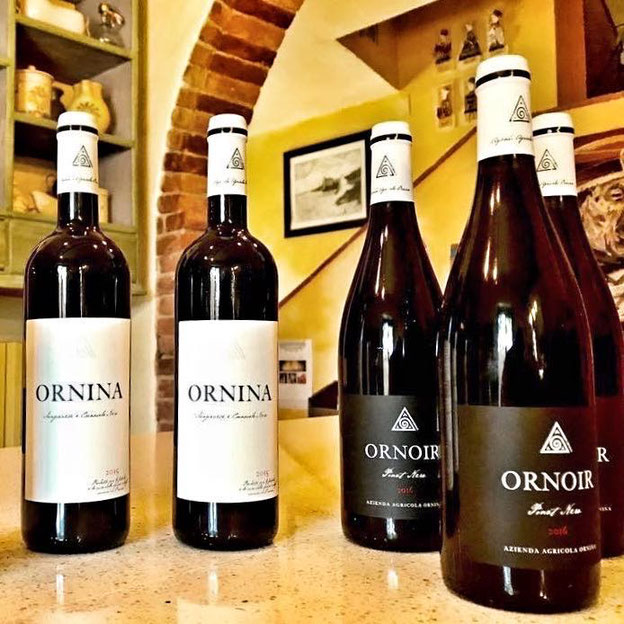 Once returned at Casafredda there will be time to chill in the garden or in front of the fireplace. Our aperitif and dinner will close a day full of history, traditions, and genuine flavors.
Day 6 - The ancient cuisine of Casentino Valley
It is your last day at Casafredda and we will introduce you to the quintessence of rural Tuscan cuisine: a range of exquisite recipes made using the simplest and most genuine ingredients that our territory can offer, the king of which is certainly extra virgin olive oil, and the queen flour. At Casafredda we are crazy enough to have never stopped the family tradition of green gold (as oil is called in these areas), and we've been carrying on our small family production for many generations, lovingly and proudly taking care of the approximately 800 plants of the property.
After our abundant breakfast we will accompany you for a short walk among the olive trees, showing you the different varieties and their peculiarities. 
After having collected few aromatic herbs from the garden, we will return in the kitchen for a tasting of our own EVOO, accompanied by a lovely glass of red; we will then begin the preparation of the Scottiglia, a slowly-cooked meat casserole whose history (and above all flavor) will enchant you.
Using the quality flours from the mill, we will then proceed with the preparation of two vegetarian varieties of Tortelli alla Casentinese, a special kind of ravioli which is cooked on an iron plate brought to white heat instead of boiling water. This very simple dish, but at the same time tasty and nutritious, was anciently prepared by housewives for the men who worked long days in the woods, where often the only way to heat or cook something was a fire exposed to the elements.
And it is precisely on the crackling fireplace of our lounge that we will cook today's dessert Necci, a crepe of chestnut flour rolled on a sweetened ricotta filling.
All of this, for us at Casafredda, isn't just a cooking class, but an ancient ritual of hospitality and participation that we happily share with our guests in the hope that Casafredda will become, and above all remain, your beloved home in Tuscany. Let's toast this last supper of ours to a long friendship!
Day 7 - time to say "arrivederci!"
As usual breakfast will be served from 7.30 am onward.
We will then process your check out and take time to warmly say "buon viaggio" and "arrivederci" to next year.
Transport to Arezzo train station is included.
Transport to Airports and other destinations can be provided at extra fees
- single occupancy: Euro 2350 
- double occupancy: Euro 1850 (only offered to guests traveling together)
- transport to/from Arezzo train station on arrival & departure dates
- 6 nights accommodation in heritage Tuscan villa
- free WiFi at accommodation
- 3x hands on cooking classes
- all meals as outlined in the program
- soft drinks & selected wines with all outlined meals
- private driver for day tours in A/C Mercedes van
- all guided excursions, cellar tours, tastings and entry fees as listed in the program
- max. 12 guests private tour
- VAT/GST and local taxes
- Casafredda apron
- Casafredda cooking booklet
- air fare
- airport transfer (available at extra costs)
- travel insurance
- any purchase of personal nature, food & beverage ordered by traveller outside of the tour itinerary, and taxes on personal purchases.
- tipping is not required and it's at your discretion
To check availability, and for any information on our workshops & retreats, please fill out the form below, and forward us your message; we will promptly reply with all the required info. You can also contact us directly on the email address: info@villa-casafredda.com
Upon receipt of written confirmation of availability, you will be asked for a payment of 30% deposit in order to secure your booking. The reservation will be secured and formalized only after deposit payment.

Balance must be paid at least 60 days before arrival day. For reservations placed less than 60 days prior the start of the workshop/retreat we do require full payment of the entire fee, and in any case before arrival day.

For booking cancellation prior to 120 days from the start of workshop/retreat, we will retain the 30% deposit and make an immediate effort to find a replacement tenant, so that we can refund the deposit in full or in part.
For cancellation in between 120 to 60 days prior arrival, the 30% security deposit will be fully retained.
For cancellation within 60 days or less from your arrival, the cancellation fee will be 80% of the whole amount.
Days will be calculated from receipt of written notice of the cancellation
Please note: if for any reason you will have to cancel your booking, we will endeavor at our best to find a replacement for your place in the workshop/retreat; when so, we will refund the total amount, less an administrative fee of Eur 200. If the replacement will be sold at a last minute reduced rate, we will retain the difference from you, plus the administrative fee of Eur 200.
In the unlikely event we will not reach the minimum number of participants, we reserve the right to cancel a workshop/retreat up to 30 days prior start of the event. In this case we will promptly refund you the entire fee. Please note: we deny responsibility for any other expenses deriving from the cancellation, including cancellations of flights and/or other forms of transport.
Participants are highly recommended to get adequate traveling/medical insurance